While it can be confusing to sift through the immense amount of health and wellness information out there, one thing is undeniable - exercise is crucial for all aspects of our health. Amongst other things, exercise boosts our energy, productivity, cognitive function, mood management, as well as our overall mental and physical health. But as we know, it is one thing to know the benefits of exercise and another to make a habit out of it.
Forming a new habit can already be difficult in the best of times, let alone in a period where we are already spent from adapting to a new normal. This means that it can be even harder to make healthy changes during times that we need them the most. However, it might comfort you to know that falling short of our goals and experiencing bouts of disappointment are part and parcel of any new endeavour. We are all human, and few things go as smoothly as we think they should. So instead of letting these lows discourage us from exercising, we have a few tips to rejuvenate you and your fitness resolutions for the next half of the year.
Rethink the words 'movement' and 'exercise'
For some of us, exercise is simply not appealing. The physical exertion of such activities can instil dread even in the best of us, but it is also often the euphoric sense of achievement at the end of it that pushes most of us to continue exercising. But what if we told you that you could trick your brain and skip the dread by not thinking of exercise as exercise?
What gets people moving is doing something that they enjoy, and reframing exercise as another form of outing could do the trick. If you are going out on a hike with friends, for instance, try thinking about the outing primarily as an opportunity to spend some quality time with your loved ones rather than a physical activity. Exercising for health and wellbeing are perfectly good motivations, but there is also no harm in admitting that that might not be inspiring enough to push you to exercise regularly. It is therefore important to find motivating factors that are appealing to you and to keep them at the forefront of your mind so that you can eventually stop seeing exercise as a chore.
Make your goals a priority
Committing to exercise and then skipping out on it is a common occurrence that most of us can relate to, so much so that researchers have conducted multiple studies on it. In these studies, the main reason that is often given for forgoing exercise is that time is too tight. While this might be true, there is still a reliable way that we can keep ourselves on track with our exercise goals - make it a non-negotiable priority. When we think of exercise as optional, we are basically making it easier on ourselves to skip it. Making exercise a compulsory part of daily lives would help us a lot in staying committed to it.
Naturally, making this commitment would require us to reallocate and dedicate some of our free time solely for exercise. However, this process might actually be easier than we might think. A recent study found that we tend to have more leisure time than we think1. Yet, for most participants, however, physical activity was uncommon during those hours. Most people instead spent the overwhelming majority of their free time watching television or in front of a phone or a computer. The main point is that most of us do have enough time to commit to exercise - we just have to make a little sacrifice of dialling back on our screen time.
Be more flexible
While making exercise a priority is important in helping us stay committed, there is an important distinction to be made. Setting aside time for exercise does not mean that it has to be on a rigid schedule. In fact, a 2020 study found that giving ourselves the flexibility to meet our goals might boost our chances of success2. Having a rigid schedule means that we are more likely to miss our planned workout when life inevitably gets in the way. This only serves to amplify the guilt that we feel and discourage any further efforts to bounce back. On the contrary, by being flexible with our workouts, we are able to build our mental resilience by being less harsh on ourselves. This resilience then helps us to be more creative with finding different opportunities to fit in our workout and stay on track with our exercise goals.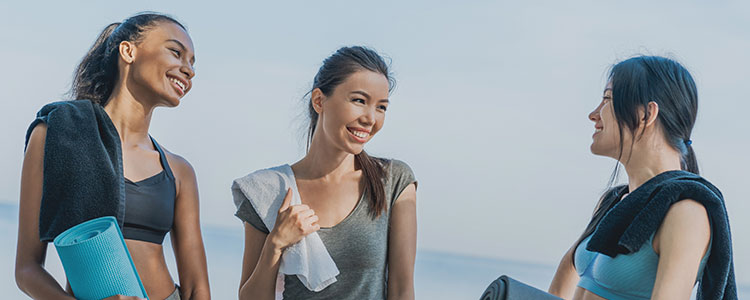 Find ways to set yourself up for success
Even with more time on our hands, it can still be a challenge to push ourselves to get our workout in. This is because many of us have responsibilities after school or work, along with other factors of fatigue and inconvenience. Acknowledging these obstacles is not only important in helping us set realistic expectations, but is also essential in helping us find the best support and solutions for our lifestyles. We can then set ourselves up for success by making it easier for ourselves to reach our goals.
For some, this support could come in the form of a person, be it a workout buddy, personal trainer, or simply a friend who can cheer you on and keep you accountable. For others, this could be a place where exercise feels enticing and therapeutic. That could be a gym, a park, a route or even just your bedroom with an exercise mat and a fitness app. No matter where you may be in your fitness journey, it is vital to recognise and accept the fact that we will all require some form of support sooner or later. Acting on this may just be the key to consistently discovering and holding on to the things that you enjoy about your workout.
Over to you
Like most things in life, building healthy habits is not a linear journey from start to finish. The process comes with its own ebbs and flows, and while the highs are undeniably fun to experience, it is surviving the lows that makes the journey a truly memorable one. If you have found yourself struggling with your fitness goals so far, you are not alone. Take heart that it is always okay to switch out or adjust your goals as your needs and wants change. And if you go off track or have gone off track from your fitness goals, just remember to try to get back on as soon as you can to keep that momentum going - it is never too late to start again.
Sources
1. Sturm, R., & Cohen, D. (2019). Free Time and Physical Activity Among Americans 15 Years or Older: Cross-Sectional Analysis of the American Time Use Survey.
2. Beshears, J., Lee, H., Milkman, K., Mislavsky, R., & Wisdom, J. (2021). Creating Exercise Habits Using Incentives: The Trade-off Between Flexibility and Routinization.