Show leadership commitment and dedication
Taking the Pledge sends a strong message of support and care to your employees about their well-being.
Attract top industry
talent
Companies that prioritise mental health support will be seen as more caring and attractive to potential employees.
Evaluate and measure employees' well-being
Help your staff measure and monitor their well-being with a targeted health assessment.
Expand on existing DEI initiatives
Cultivate a positive and supportive work environment by incorporating mental well-being into your DEI plans.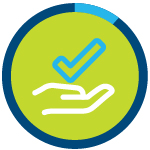 Empower and encourage others
Your public commitment to advocate for mental well-being will help drive positive behavioral change across other workplaces.